RELAX, UNWIND AND FEEL THE STRESS FLOAT AWAY
Massage Treatments in Bideford
---
We all know that the weight of the world and day to day life can make us build up stresses, aches and pains, but you don't have to stay in discomfort. From our Bideford salon we offer a range of massage treatments to make you feel brand new again. If you're experienced and know what style of massage and where you need it then you can book straight in with our fantastic beautician Lisa who can take the weight off and work those knots out which are causing the discomfort. If you're new to massage or perhaps you have a sudden discomfort you'd like taken care of then you can always contact one of our lovely team who will be happy to talk through your needs and recommend what they think will work best for you. Our expert team cover Swedish, Indian Head, Deep Tissue and Hot Stone Massages to offer you a wide range of massage treatment options to help you put the pain behind you.
---
EVERYONE NEEDS A LITTLE PAMPER TIME
Swedish Massage & More in Bideford
---
One of our most popular and most well known massage treatments is the Swedish massage which we can offer on the back, neck and shoulders or a full body massage. Swedish massage is more popular for a general aches and pains and an overall relaxing feeling to help you unwind and feel brand new. Indian head massage specifically works the head, where you might not feel you carry stress, but this treatment is amazing for working out any stresses you might have. Our deep tissue massage is a harder more specific massage for muscle or joint pain where we work the areas harder hitting deeper areas to release tension. Our hot stone massage is the next stage up from this, where we use the heat from the stones in order to raise the knots from deeper areas we can't reach through deep tissue massage and make the areas of pain and discomfort more accessible so we can treat it. Do you have some aches and pains you need sorted? Book now with one of our amazing team today using the button below.
---
Massage Treatments
This is the 1st item
This is the 2nd item
Swedish Back, Neck & Shoulder Massages
Swedish Full Body Massages
Indian Head Massages
Deep Tissue Back, Neck & Shoulder Massages
Hot Stones Back, Neck & Shoulder Massages
Hot Stones Full Body Massages
OTHER SERVICES
Looking for
something else?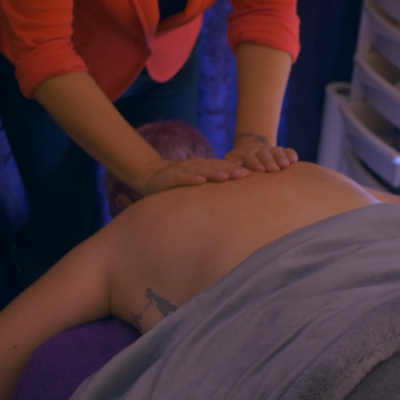 RELIEVE ACHES, PAINS AND STRESSES
Sports Massage in Bideford
---
We're also delighted to announce that the fantastic Richie Stoneman will be offering his incredible sports massage and soft tissue therapy from our Bideford salon once again. Richie is BTEC level 5 qualified in clinical sport and remedial massage and if you've been lucky enough to be on his table before and experience what he can do for muscular pains and aches, then you'll know how much of a new person you feel once he's worked his magic. This is perfect if you're regularly engaged in sporting activity and want to prevent injury or even help with recovery times after the activity. This isn't just for the sporty types though, many of us can build up stress which puts us in discomfort and soft tissue therapy might be the best thing for you and it's also effective for people with chronic medical conditions such as Fibromyalgia. Richie is available with us on selected dates so get in touch using the button below and book in your next step to feeling brand new.
---
Sign Up to The Expert Corner
Be the first to hear about our latest offers and get expert tips from our stylists and therapists