INSTANT RESULTS
CACI Face and Bottom-Lifts in Bideford
---
CACI - which stands for computer aided cosmetology instrument - is one of the best and most sought after treatments in the beauty industry. It's award-winning, is used by many celebrities, and is backed by over twenty years of research which has led to the success of the results that it sees today. It's one of the most advanced treatment systems of its kind, and we're really proud to be able to offer it here at Beauty & The Bleach. Perfect for those needing high precision results, this treatment gently lifts, tightens and tones the facial muscles whilst smoothing the appearance of fine lines and wrinkles. Skin is beautifully re-hydrated whilst tone and texture is improved leaving the skin with a wonderful glow and a firmer more supple appearance. It also reduces the appearance of pigmentation and scarring. It uses the microdermabrasion and light therapy to work on problem areas. Using the latest and most advanced technology available the non surgical face lift uses micro current to help firm and tone the muscles of the face, designed to help you fight the signs of ageing. We are sure that anyone needing to smooth or lift their derriere will adore this CACI Bottom Lift Treatment. Using the latest cutting-edge technology, this luxurious treatment gives instant results in reducing the appearance of cellulite around the bottom, back of thigh and calf area. In addition, it also helps to tone and life the muscles in these areas for noticeable results.
---
HOW DOES IT WORK
The Non Surgical Face-Lift
---
So, how does it work? CACI uses a unique combination of wave-forms and frequencies which work in harmony with your body's own bio-electrical field. It transmits tiny electrical signals that are documented to stimulate muscle tone and enhance skin tissue. When used as a facial, it lifts the face by toning muscles, smoothing away fine lines and wrinkles, and preventing the skin from sagging. The results of this treatment are so dramatic that it has become known as the 'non-surgical face lift'.
---
OTHER SERVICES
Looking for something else?

Self care is important. It's vital to take some time out of your busy life to prioritise feeling.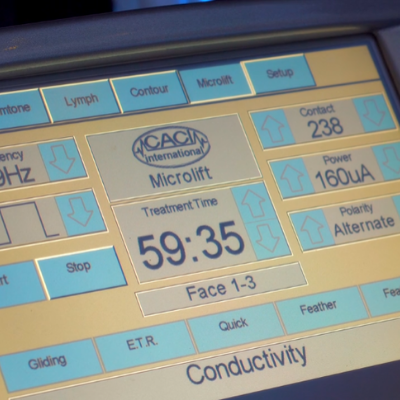 WILL IT WORK FOR ME?
Can You Benefit
From CACI Treatments?
---
This treatment is appropriate for clients over the age of twenty five. As with all of the rest of our treatments, we'll ensure that your experience is a pleasant one, promising a professional, friendly and comfortable service, and always ensuring that you leave with the results you want. If you're interested in a CACI face lift or another treatment, get in touch with us today - we'd be more than happy to give you more information on how this particular treatment works.
---
Sign Up to The Expert Corner
Be the first to hear about our latest offers and get expert tips from our stylists and therapists