EVERY GIRL NEEDS PERFECT BROWS
Brow Lamination in Bideford
---
Brow lamination is now available at Beauty and The Bleach in Bideford. This new service allows us to reshape your eyebrow hair to keep them in your desired shape, perfect for anyone who might have misdirected brow hair, if there are any sparse areas in your eyebrow or simply for anyone who might want a more groomed look. The lamination requires a solution to be brushed through the hairs which makes them softer and easier to shape. We'll then brush the brows into the desired shape you want and apply a laminating solution which then keeps the hairs in their right place. All our brow lamination treatments include a tint and wax as standard and the treatments can last for up to 8 weeks at a time. If you have thicker brows this treatment will allow you to hold thicker hairs in place which gels would struggle to achieve and if you have thinner brows this treatment will give you that fuller effect and the hair you do have can be shaped to cover any bare areas. It's also a fantastic alternative to microblading, if you've ever found it painful or ineffective. A skin test is required before we can carry out any brow lamination treatments.
---
NATURAL EYEBROW TINTING
Henna Brows in Bideford
---
Henna Brows have landed in our Bideford salon! This is a treatment we've wanted to offer for some time due to the fantastic results you get and the fact it's 100% vegan friendly and contains less chemicals and harsh ingredients as conventional dyes and tinting. Henna Brows are a semi-permanent, natural eyebrow tinting treatment, they work by staining the skin underneath the hair which then creates the effect of fullness, filling in any areas of the brow which might be more sparse. It works by cleansing the skin, removing oils and then measuring and shaping your brows, applying paste to create a barrier of the defined shape. Henna is then pushed onto the skin in between all the hairs which is left for 10-20 mins. Once developed, we wipe it away and then perform a brow wax which leaves the new shaped, defined brow. Treatments can last up to 6 weeks and they're perfect for any clients with more sensitive skin or if you prefer products which are more natural and less chemically based. A skin test is required before we can carry out any henna brow treatments.
---
Brow Treatments
Brow Lamination with Tint and Wax
Henna Brows with Wax
Eyebrow Waxing
Eyebrow Tinting
Lash and Brow Tint
Brow and Last Tint with Eyebrow Wax
OTHER SERVICES
Looking for
something else?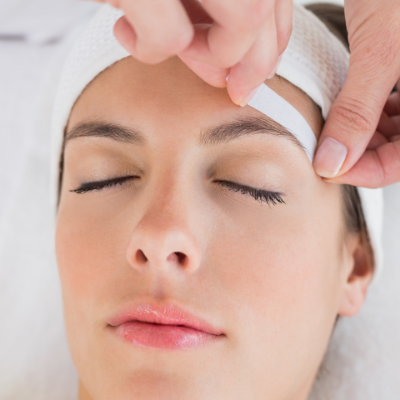 MAKE YOUR DREAM LOOK COME TRUE
Eyebrow Waxing and Tinting in Bideford

---
As well as our new Brow Lamination and Henna Brow services, we also offer standard eyebrow waxing and tinting treatments too. These can be combined with lash treatments at the same time with combo deals available which can be seen on our price list here. We know how important it is to have that perfect shape or colour which completes your look, and all our expert beauty therapists are highly experienced in ensuring our clients leave with their perfect look.
---
Do you have any questions about brow treatments we can help you with? We're always happy to offer our advice and expertise with an initial free consultation, so please feel free to contact us either on our contact page or through our Facebook page and we can start your journey towards achieving your dream look.
---
Sign Up to The Expert Corner
Be the first to hear about our latest offers and get expert tips from our stylists and therapists