HAIR EXTENSIONS
Hair Extensions in Bideford
---
When we think of a trip to a hair salon, we always tend to think about our haircut - but this is not always the case! Many clients come to us as they want to increase the length or volume of their hair using hair extensions. For anyone who has thought about growing their hair, we know that once you've made that decision it seems like your hair will take forever to grow even an inch, but don't let this put you off or stop you going for your new look. Our specially trained hair artists are here to offer the latest innovative hair extensions which provide the best results for you possible.
---
PROTECTING YOUR HAIR
Hair Extension Advice and Aftercare
---
We can offer micro and nano bead hair extensions which are individually bonded into the hair using a clamp, not heat or glue. Silicone beads then line the hair to help prevent damage, ensuring your hair is protected. Nano beads are virtually undetectable as they are so small and work well in thinner hair, where micro beads are larger but still hide well, perfect for thicker hair and of course a full consultation and aftercare is given with both. We're also proud to now offer The Secret Weave too, perfect for women with hair loss conditions. We're here to offer an initial no obligation chat about what we think will suit the look you're trying to achieve right through to giving you advice on how best to look after your new luscious locks.
---
The Secret Weave
Applied to the hair in a long single weft of hair
Adds thickness
Very discreet
Silicone lined beads to protect hair
Weft is sewn into place making it the least damaging method of application
The hair weft is reusable as hasn't been tarnished by heat or glue
Full consultation and after care given
Micro & Nano Beads
Individually bonded into the hair using a clamp - no heat or glue
Silicone beads line the hair to help prevent damage
Nano beads are virtually undetectable in the hair as they're so small
Micro beads are larger but still hide well
Both use the same process to fit
Offers a natural and discreet look
Full consultation and after care given
OTHER SERVICES
Looking for
something else?
OUR WORK
Masterly applied extension from our expert hair artists
---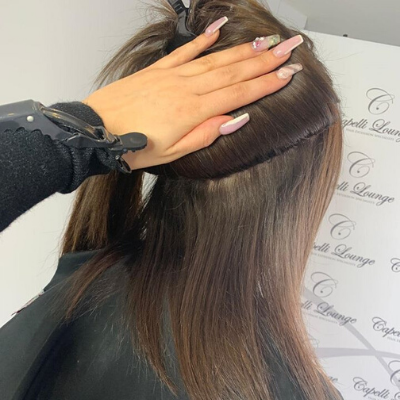 SERVICES YOU CAN TRUST
We Provide The
Secret Weave
---
We're proud to offer the Secret Weave to provide our clients with the very best hair extensions to complete your dream look. The Secret Weave is also perfect for women with medical conditions such as alopecia or women going through chemotherapy. It works by attaching to the hair you already have unlike a wig and it's completely discreet and unnoticeable from natural hair. Have you thought about getting hair extensions to give your hair a longer or fuller look? Get in touch using the button below and talk to one of our friendly and expert team.
---
Sign Up to The Expert Corner
Be the first to hear about our latest offers and get expert tips from our stylists and therapists