DRAMATIC LOOKS
Eyelash Extensions in Bideford
---
Lash extensions are the perfect way to enhance your natural lashes length, fullness and curl. Our lash extension treatments are custom to the look you want, which is discussed with one of our artists prior to appointment. Once this has been agreed, they are applied using adhesive glue, with the extension being very carefully applied to each individual lash. Based on the look you want, different thickness, curl and length extensions are used. We currently offer full sets and infills for natural/classic lashes, Russian lashes and super volume 14D lashes to offer a variety and allow you to create your desired look and the lashes usually last around 6 weeks depending on aftercare. Click here to view our pre-appointment and aftercare advice.
---
ENHANCE YOUR NATURAL BEAUTY
Lash Tints & Lifts in Bideford
---
Lash lifts and tints offer a slightly different treatment to lash extensions, as instead of extending the lashes they alter the shape and colour of your natural lashes without having to apply extensions. Most people's natural lashes will grow outwards and not up, although that's the look most of us want to achieve. A lash lift involves rolling the lashes up and setting them in place using the same kind of chemicals used in a hair perm. Once we have boosted and lifted each individual lash we then tint them leaving you with thicker, longer and darker looking lashes. The results should last you for around 6-8 weeks depending on the level of aftercare applied. Click here to view our pre-appointment guidelines and aftercare advice for lash tints and lifts.
---
Lash Treatments
Full Set Natural Lash Extensions
Full Set Russian Lash Extensions
Natural Infills Lash Extensions
Russian Infills Lash Extensions
Full Set Super Volume 14D Lashes
Eyelash Tint
Eyelash Lift
Eyelash Lift & Tint
OTHER SERVICES
Looking for
something else?
OUR WORK
Take a look at our expert beauty therapists work first hand.
---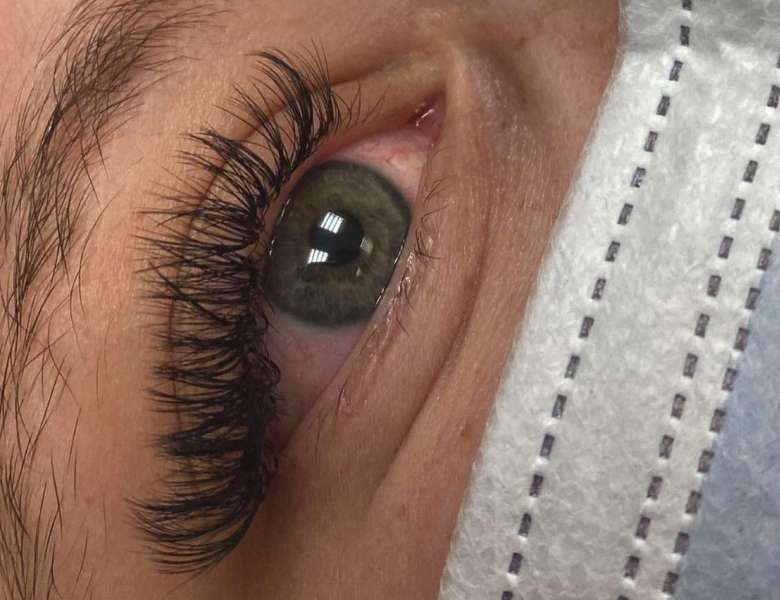 TREATMENTS YOU CAN TRUST
Lash Treatments Safety Requirements and Aftercare
---
As with all our services, our artists have all the necessary experience and qualifications to carry out these treatments safely and to a professional standard. A skin patch test is required before any appointment for lash extensions, lifting and tinting which is required 48 hours before your appointment. For lash extensions, it's important to ensure your face is free from makeup and other creams/oils. We also advise you should shower before your appointment whether it's extensions or a tint/lift as you should avoid getting water or steam (or excessive sweating) on or near your eyes up to 48 hours after the appointment which is the most crucial time for maintaining your look. After 48 hours you should brush out your lashes every morning before applying any lash serum. Provided they are done so correctly and by trained professionals such as our staff, the treatments are completely safe and won't damage your natural lashes or eye.Get in touch to book an appointment or to talk to one of our skilled beauty therapists directly.
---
Sign Up to The Expert Corner
Be the first to hear about our latest offers and get expert tips from our stylists and therapists