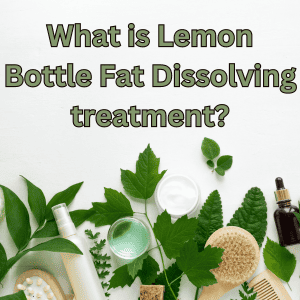 A new transformative treatment for a new you!
---
Are you in search of a revolutionary way to combat stubborn body fat without resorting to surgical procedures, enduring lengthy downtime, or dealing with the hassle of painful treatments? Look no further! We are thrilled to introduce you to Lemon Bottle Fat Dissolving Injections, a cutting-edge and highly effective solution that is changing the beauty game. In this comprehensive guide, we will delve into what Lemon Bottle is, how it works, the associated costs, and the remarkable results it can deliver.
What is Lemon Bottle Fat Dissolving treatment?
---
Lemon Bottle represents a ground-breaking approach to fat reduction. It involves quick and virtually painless injections of a specialized formula into specific areas of the body where stubborn fat persists despite dietary changes and exercise. The allure of Lemon Bottle lies in its status as a safe and non-invasive method that delivers rapid and remarkable results, all without the need for downtime.
How does Lemon Bottle work?
Lemon Bottle falls under the category of lipolysis treatments, which focus on breaking down fats through a process known as hydrolysis. This process stimulates the release of fatty acids, effectively destroying fat cells from within, essentially mirroring natural chemical processes occurring within the body.
One vital point to remember is that lipolysis treatments like Lemon Bottle are not weight loss solutions; rather, they are targeted fat removal solutions. They are best suited for individuals who are maintaining a healthy diet and exercise routine, are close to their ideal weight, and are grappling with localized pockets of stubborn fat.
Lemon Bottle's formula is highly effective and comprises natural active ingredients, including: • Bromelain: Derived from pineapples, Bromelain is a potent digestive enzyme frequently employed in anti-obesity medications. It triggers fat breakdown and exhibits a robust anti-inflammatory effect that reduces swelling and puffiness. • Vitamin B2 (Riboflavin): Riboflavin plays a crucial role in converting carbohydrates, proteins, and fats into energy within the body. While the body cannot store much of this water-soluble vitamin, it is essential for fat metabolism and oxidation. • Lecithin: A naturally occurring fatty substance that attracts both water and fats, Lecithin reduces cholesterol levels and promotes the health of arteries, veins, and blood vessels.
During the Lemon Bottle treatment, the advanced solution is skilfully injected into the targeted fatty deposit area. It then gets to work beneath the skin's surface, breaking down the stubborn fat cell walls before converting each fat cell into fatty acids. The body's natural waste removal processes take it from there, flushing the fatty acids out of the body through urine. This is why maintaining a daily water intake of at least two litres after treatment is recommended, as it aids in the faster elimination of these fatty acids.
How much does Lemon Bottle Fat Dissolving cost?
The costs associated with Lemon Bottle treatment are relatively low in comparison to alternative therapies, making it an attractive solution, especially when multiple areas require attention. In most cases, a single treatment session suffices, further reducing the overall cost.
Can you really see results in less than 24 hours?
Absolutely! One of the reasons Lemon Bottle has gained a dedicated following is its ability to deliver rapid results. This makes it an ideal choice when you need a quick enhancement before a special event or occasion. It efficiently boosts your confidence, helping you look and feel your best in no time.
Is one treatment enough?
For many individuals, a single Lemon Bottle treatment session is adequate to achieve significant and noticeable results. Some clients may choose to have follow-up treatments to further refine and perfect their results. The number of sessions required is influenced by individual goals and preferences.
Are the results permanent?
Yes, Lemon Bottle treatment offers a permanent solution for dissolving and destroying fat cells. However, the longevity of these results depends on your commitment to maintaining a healthy diet and an active lifestyle post-treatment. By doing so, you can effectively prevent stubborn fat from re-forming and returning. While Lemon Bottle permanently eliminates existing fat cells, it cannot halt the formation of new fat cells without proper diet and exercise.
Lemon Bottle Fat Dissolving Injections represent a revolutionary solution for individuals seeking to eliminate stubborn body fat without resorting to invasive procedures. It offers a quick, safe, and efficient treatment with rapid results, making it the perfect choice for individuals looking to boost their confidence before special events. Remember that maintaining a healthy lifestyle is key to preserving these remarkable results. Embrace the transformative power of Lemon Bottle and bid farewell to stubborn fat for good!