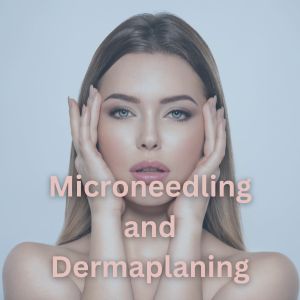 "
The Fastest Way To Glow And Sparkle With Two Simple Treatments!
---
We are so excited to introduce you to two fantastic skincare treatments that will leave your skin feeling refreshed, rejuvenated and glowing! Get ready to sparkle like never before with dermaplaning and microneedling!
Dermaplaning
---
Dermaplaning is like a magical exfoliating dance for your skin! It's a non-invasive treatment where we use a special tool to gently remove dead skin cells and peach fuzz from your face. Don't worry, it's painless and super safe!
Benefits
---
Bye-bye Dead Skin: Say farewell to dull, dead skin, revealing a smoother and brighter complexion. Smooth as Silk: With peach fuzz gone, your skin feels incredibly smooth, like silk! Better Product Absorption: Skincare products can now penetrate deeper into your skin, giving you maximum benefits.
Microneedling
---
Prepare to be amazed by microneedling! It's like giving your skin a little wake-up call with tiny, painless needles! This minimally invasive treatment stimulates collagen production and promotes skin rejuvenation.
Benefits
Collagen Booster: It's like hitting the refresh button on your skin's collagen, improving elasticity and firmness. Goodbye, Fine Lines: Fine lines and wrinkles will meet their match with microneedling! Scar Smoother: Whether it's acne scars or stretch marks, microneedling can help fade their appearance.
And here's the best part: Both treatments can be done together or separately, depending on your skin needs and goals! You'll leave our session feeling radiant, ready to take on the world with a fabulous glow!
Dermaplaning is like a magical skincare secret that will leave you absolutely glowing! Get ready to fall in love with this fabulous treatment and all its benefits!
Instant Radiance: Say hello to a seriously glowing complexion! Dermaplaning exfoliates away all those dull, dead skin cells, revealing fresh, luminous skin underneath. You'll look like you just stepped out of a spa day, all bright and radiant!
Smooth as Silk: Get ready to touch your face and feel absolute smoothness! Dermaplaning whisks away peach fuzz and those annoying little bumps, leaving your skin feeling like velvet. Your makeup will glide on flawlessly, and you'll feel oh-so-luxurious!
Bye-bye Fine Lines: Dermaplaning is like a wrinkle-fighting superhero! It helps to reduce the appearance of fine lines and wrinkles, leaving you with a more youthful and refreshed look. Who needs a time machine when you've got dermaplaning?
Product Power: Get ready to supercharge your skincare products! After dermaplaning, your skin becomes a thirsty little sponge, ready to soak up all those serums, moisturisers, and treatments you love. Say hello to maximum product absorption and maximum results!
Makeup Perfection: If you love a flawless makeup look, dermaplaning is your new best friend! With peach fuzz out of the picture, your foundation will look airbrushed, and your makeup game will be on point! Say goodbye to cakey makeup days!
No Downtime: Dermaplaning is a quick and painless treatment with zero downtime. You can get back to your fabulous life right after, with your skin looking even more fabulous!
You will also fall head over heels for microneedling, the skincare superstar that's going to give you the skin of your dreams! Micro needling is like a magical wand that works wonders for your complexion!
Collagen Booster: Microneedling is all about stimulating collagen production! Those tiny, painless needles create micro-injuries in your skin, and guess what? Your skin goes into overdrive, producing collagen like never before! Say hello to plumper, firmer, and more youthful-looking skin!
Goodbye, Fine Lines: Ready to bid adieu to those pesky fine lines and wrinkles? Microneedling is your secret weapon! As your skin rebuilds itself with fresh collagen, those lines will start to fade away, leaving you with a smoother, more rejuvenated complexion!
Bye-bye Scars: Whether it's acne scars, stretch marks, or other blemishes, microneedling is here to transform your skin! It works its magic by promoting skin regeneration, helping to reduce the appearance of scars and imperfections. Hello, gorgeous skin with renewed confidence!
Glow Getter: Get ready to glow like never before! Microneedling improves your skin's texture and tone, leaving you with a radiant and luminous complexion that's bound to turn heads! You'll be positively beaming with confidence!
Skincare Powerhouse: Remember all those fabulous skincare products you love? Microneedling makes them even more effective! Those tiny channels created by the needles allow your skincare goodies to penetrate deeper into your skin, maximizing their benefits. Your skin will drink up all that goodness!
Minimal Downtime: Time is precious, and so is your beautiful face! Microneedling has minimal downtime, so you can get back to conquering the world in no time! It's the perfect treatment for people on the go, just like you!
So, are you ready to unleash the magic of microneedling and dermaplaning and transform your skin into a glowing masterpiece? It's a journey to a more radiant, youthful, and confident you, and we can't wait to pamper you with this amazing treatment! Let's get started on your path to skincare greatness!
If you book microneeding , you can have the choice to add on dermaplaning for just an extra £20 ! An amazing saving of £35!!