SPECTACULAR DESIGNS
Nail Treatments in Bideford
---
Nail treatments - as well as making your nails look stunning - are a great way to unwind and treat yourself to a little bit of 'me' time. At Beauty & The Bleach, our nail technician offers a friendly, professional service, that'll leave you feeling refreshed - and your nails looking enviable!
---
SKILLED NAIL ARTISTS
Acrylic Nail Treatments and More...
---
Working with acrylics, we can offer full sets, or infills to keep your current look fresh and prevent outgrowth. As with all of our other hair and beauty treatments, we take extra care to follow the latest trends and techniques. We can offer a huge variety of beautiful and creative designs to suit whatever style you're searching for.
---
Manicures/Pedicures & Gel Polish
Full Set of Acrylics with Bespoke Nail Design
Manicure with Gel Polish
French Gel Polish
Luxury Manicure
Pedicure with Gel Polish
Pedicure with Gel French Polish
Luxury Pedicure
Hollywood Toes
Nail Enhancements & Acrylic Infills
French Sculptured Acrylics
Sculptured Acrylics with Gel Overlay
Nail Fix
Acrylic Removal & Reapply
2 Weeks Infills Inc. Gel Overlay
3 Weeks Infills Inc. Gel Overlay
Nail Art
Detailed Nail Art
Enjoy Our Complimentary Refreshments
OTHER SERVICES
Looking for
something else?
OUR WORK
We're lucky to have some of North Devon's most talented nail artists working with us.
---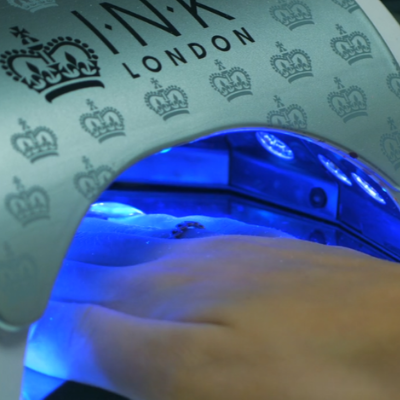 OUR TRUSTED PRODUCTS
We Only Use The Best When It Comes To Your Nails

---
It's important to us that we believe in every product we use at Beauty & The Bleach. We searched long and hard for a product that worked for our brand, and Glitter Bel is the perfect match. With strong, pigmented polish, the colour of your nails is guaranteed to stand out, whether it's a vibrant shade or something neutral, and with more durability, it'll last longer, meaning you get more for your money. Want your own nails done? Whatever you have in mind, get in touch and make an appointment using the button below.
---
Sign Up to The Expert Corner
Be the first to hear about our latest offers and get expert tips from our stylists and therapists