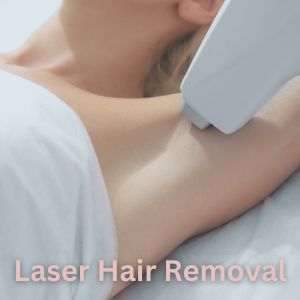 The Fastest Way To Get Smoother, Softer Skin For Summer
---
What is the greatest gift you can give yourself this summer? Time. Your time is your most valuable asset and we want to help you reclaim hours of your life back every year to do the things you really love. A 2017 study found that up to 2 hours a week can be lost to removing unwanted body hair as people struggle to squeeze in to their lives more interesting and fulfilling activities; watching a film, spending time with friends and family or just taking a much needed break from life's daily chores. During the summer months this can feel like a daily grind rather than a time to indulge in self care and pampering, resulting in at best, missed patches or stray hair being overlooked and at worst burns, scratches, grazes and rashes causing discomfort, pain, itching and self consciousness. Not only can we help you gain back your time, we can completely free you from this fiddly, messy and sometimes dangerous task forever!
As ever, here at Beauty and the Bleach, we strive to find the most effective and up to date treatments to support you in your daily care and personal grooming needs. If you are tired of dealing with unwanted dark hair and are looking for a more long term solution, we can absolutely recommend the effectiveness and convenience of laser hair removal! What's more is we can provide you with the best experience and service you could find to help you achieve your goals!
Laser hair removal is a non-invasive procedure that uses concentrated beams of light to target and completely remove the follicles of each individual hair. It is a fantastic option for all genders who want to reduce hair growth in various areas of the body including face, legs, underarms, bikini line and more!
IOne of the greatest advantages of laser hair removal is the long lasting results it offers. Unlike other traditional methods such as shaving, plucking or waxing, laser hair removal treatments can significantly reduce hair regrowth in each targeted area. After a course of sessions, we can help you achieve a noticeable reduction in hair density and thickness, leading to smoother skin and less damage to sensitive areas which can lead to rashes and infection!
Absolute Precision
---
Another wonderful aspect of this treatment is its absolute precision. The laser can selectively target dark, course hair while leaving the surrounding skin unharmed and comfortable. This means you can finally say goodbye to nicks, cuts and irritation caused by more traditional methods of hair removal. Plus, each session is relatively fast and can be squeezed in to your busy schedule, freeing up your time to do the things you love!
Each treatment course can be informed by the hair removal you require, the results you want to achieve and can be planned out by our experienced team to help you find the best option for you! We can help you best prepare for your treatment for you to achieve optimum results! Advancements in technology have made this type of hair removal the most safe and comfortable its ever been!
What Is Involved During A Session?
---
So now you may be wondering what a laser hair removal session actually is! During a treatment a handheld device emits pulses of highly concentrated light onto your skin. This light is absorbed by the pigment in each individual hair, transforming the energy into heat, that heat is where the magic happens! Once the heat reaches the hair follicles, it damages them, stunting and hindering future hair growth from that point on. It's like sending a clear message to stubborn follicles to say 'No more shenanigans from you!'
What Does It Feel Like?
---
Another consideration you may have is what does this feel like? It can best be described as a warm flick on the skin, disappearing in an instant, leaving no damage or risk of infection to your skin and leaving you feeling fabulous! To achieve the best results, we would recommend a number of sessions which we can discuss with you during a personalised consultation and answer any questions you might have. The procedure works best on dark hair that is actively growing, therefore, a number of sessions, which vary person by person, will be advised upon throughout your course of treatment to achieve the best results for you and your individual needs and expectations.
After your treatment sessions are complete you will be stunned by the results! A significant reduction in regrowth, skin that is not exposed to trauma from shaving and plucking and a smoother, softer finish to your skin, leaving you feeling fresh and confident!
Laser hair removal is the secret superhero treatment that will banish unwanted hair and bring out your radiant beauty! Embrace the power of this technology today and get ready to say hello to smoother, more stunning skin everyday and the hours of your life you can claim back to indulge the things you really love to do!